The technology and the company of Maximus was developed from 1989-1992.
billed:e-maximus-9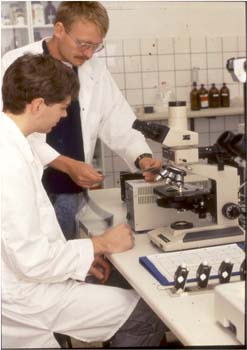 Picture: Bent Urup in the laboratory at Maximus in 1991, with laboratory manager Jan Nielsen.
At that stage all marine hatcheries where applying rotifers and Artemia for production of marine fish fry, even these organisms does not exist by any numbers in the natural environment for marine fish larvae, and even they do not have sufficient levels of the essential amino and fatty acids, to support a healthy development of marine fish larvae in general.
Bent Urup who had then been working with the survival of year classes of fish larvae in the sea knew, that the dynamics of the copepods ( a large group of small crustacean) was essential for the larvae survival, and he saw the potential in developing a technology to produce the natural feed for the fish larvae.
From 1989 to 1992, the technology was developed and applied into Maximus, and Bent Urup did his PhD on developing the copepod technology and adapting into a new marine hatchery concept.
A hatchery concept which is not just about copepods, but very much about creating natural like conditions for the larvae which are close to those they experience in the sea, when conditions are optimal, and where no predators are presented.
The philosophy and the design concepts from Maximus have been adopted in full into Futuna Blue in Spain, which is almost an updated copy of Maximus. At Futuan Blue during the first year in production, fry of no less than five species (Tuna, Kingfish, Turbot, Sole, Seabass) where produced in the new facility, including the Bluefin tuna, which is considered to be one of the very most difficult species to produce.
Other hatcheries build to the same concept, and also designed by involvement of Bent Urup, but without the copepod technology includes:
Aquinor, Chile (Kingfish)
NPC, Saudi (Kingfish, barramundi)
Rompin Hatchery, Malaysia (Barramundi, Tiger Grouper)
Further has CleanSeas(Australia) included many of the elements originally developed at maximus it their new Kingfish hatchery.
All these hatcheries except CleanSeas are build with the same first feeding layout of 12 first feeding-tanks, with a special designed double screen outlet, first installed at Maximus, same setup for live feed production, and use with also of the RAS technology concept developed 20 years ago, as installed then at Maximus.
Links:Aquinor hatchery Chile, www.acuinor.cl
Picture Futuna Blue Spain, www.futunablue.com
www.acuinor.cl